We will keep you updated on our building addition and renovation plan here in the coming months. Serving you is what we do!
May Update:
At the May meeting, the library board of trustees approved and signed a construction contract with Larson & Larson Builders Inc. who was the low bidder on our project. The next step is acquiring the debt needed to pay for the contract. The board is working with financial advisor Dan Forbes of Speer Financial and bond council Kyle Harding of Chapman & Cutler to complete this task. More updates to come. Construction is still set to start in early August, exact date TBD.
---
---
---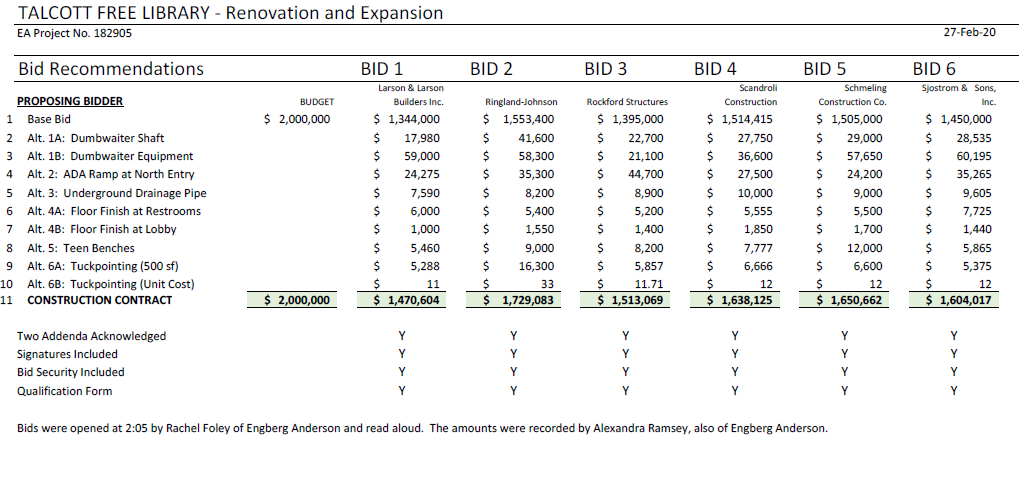 Building Renovation and Addition
Our construction project will be starting in August 2020 and we hope for completion by June 2021. Talcott will be open throughout the construction. If/when we close we will give ample notice to the community. Keep checking back here for updates as we have them.
This building plan will give the library multiple new quiet study rooms, a larger room for programs, better more accessible restrooms, and a new space for teens and their collection. Our Young Adult collection has circulated over 15,000 times in the past 3 years, so we feel it's time to create a positive, safe environment for teens to feel a sense of belonging. In addition, a needed sprinkler system will be installed as well as updating all of the flooring, ceilings, and light fixtures– most of which are more than 25 years old. Dairyhaus will not be affected!
Talcott offers over 300 programs annually with more than 2,500 attendees. There are almost 3,500 card holders and 40,000+ visitors/year. With over 100,000 items available physically or electronically, plus free computer access and WiFi, Talcott staff works hard to serve everyone in the community.
---