Today is the birthday of one of our favorite YA authors here at Talcott:
Rainbow Rowell
. Author of popular young adult titles such as Fangirl, Eleanor and Park, Landlines, and Attachments, Rainbow Rowell is an extremely engaging storyteller who writes characters you can't help but fall in love with!
Today's Book of the Day is her popular title Carry On, but also consider checking out other books by this author. Her titles are also available through our
Overdrive
app!
Read the synopsis below and see if Carry On is the book for you!
Simon Snow is the worst chosen one who's ever been chosen.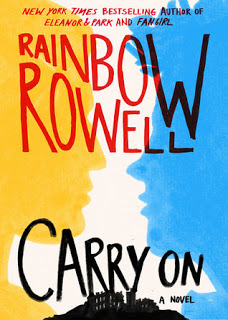 That's what his roommate, Baz, says. And Baz might be evil and a vampire and a complete git, but he's probably right.
Half the time, Simon can't even make his wand work, and the other half, he sets something on fire. His mentor's avoiding him, his girlfriend broke up with him, and there's a magic-eating monster running around wearing Simon's face. Baz would be having a field day with all this, if he were here—it's their last year at the Watford School of Magicks, and Simon's infuriating nemesis didn't even bother to show up.
Carry On is a ghost story, a love story, a mystery and a melodrama. It has just as much kissing and talking as you'd expect from a Rainbow Rowell story—but far, far more monsters. –description from goodreads
Happy Reading!