STORY HOUR
Ages 3-5 Yrs. old
Tues. 10a.m.
Wed. 10a.m./1:30p.m.
4/2-3       "Rain, Rain!"
4/9-10     "Earth Day!"
4/16-17   "Happy
Easter!"
4/23-24   "Rainbows"
4/30-5/1   "Butterflies"
TODDLER TIME
Ages 1 and 2
Mondays   9:30am/10:15am
4/1     "Rainbows"
4/8     "Earth Day"
4/15   "Easter"
4/22   "Chicks"
4/29   "Flowers"
Teen Writers Club
Open to ages 13-19.
Tuesdays
4-5 pm
Do you like to write
short stories, poetry
or prose? Come share your work
with other writers like you. Optional writing prompts and snacks will be provided.
LEGO Club
Thursday,
April 4
3:30-4:30 pm
Come in and have fun creating a masterpiece. LEGOS provided by the library. Open to ages 8-14.
Folded ZOO (Origami)
April 15-20
All Day
Stop by the library anytime & create
animal inspired origami. Paper &
printed instructions provided. Family friendly fun and open to all ages.
STEM CLUB
Thursday, April 18
3:30 to 4:30 pm
Open to ages 12-14. Come join us as
we continue to build robots.
Our path to PrairieCat
begins this month
We are very excited for the big changes coming to Talcott, however the full transition will happen in
stages. Starting on Monday, April 8 thru Wednesday, May 22: Limited new items will be added to the
collection. We will try to add all items with a popular demand. Please ask a
librarian if you have any questions.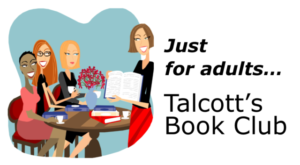 Thursday, April 4 at 6 pm
This month read a book with flower
in the title or a spring book.
Monday, April 8 at 1 pm
This month read the book
Between Shades of Gray by Ruta Sepetys.
National Library Week
April 8-13 Stop by the library for fun surprises
and special activities all week!
Games Against Humanity
Friday, April 26
6-8 pm
Talcott is hosting its first game night
for adults in a special after hours
program. We will have modern party
games along with some classics. Munchies will be provided. Registration
required. This event is for adults 18+.