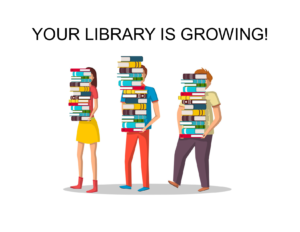 On May 21, 2019 Talcott will be joining a larger consortium called PrairieCat. Once live, Talcott patrons will have the collections of
130+ Illinois libraries available to them at their fingertips. There are many wonderful changes coming with this transition including:
Patrons may opt into text reminders
for due dates.

Patrons will be able to pay fines online.

Patrons will be able to see and request
items from 130+ libraries from home.

Patrons from South Beloit or Pecatonica Libraries will no longer be considered "reciprocal borrowers" and allowed to place holds on items from any library.
This change will not affect how using a Talcott card works at North Suburban
Library District.

We go live~Tuesday, May 21.
You can check out what it will look like
at prairiecat.info